Farmers Market
Beginning in the Spring of 2003, Fitler Square has provided the location for a Farmer's Market each Saturday morning. Sponsored and organized by the Pennsylvania Food Trust,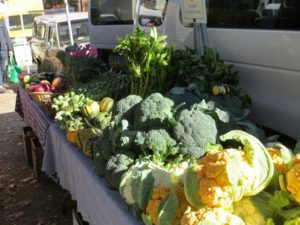 the Farmer's Market brings meat and produce from small area farms to the tables of local residents.
Celebrity chefs, nutritionists, and environmentalists (and all the rest of us) sing the praises of farmers' markets. They promote eating seasonal products grown locally on small, sustainable farms, rather than processed food from thousands of miles away. You can fit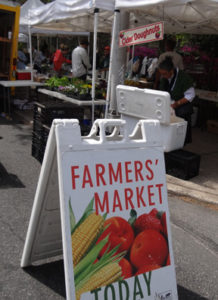 some of that farmers' market ethos into your busy schedule every Saturday from 10 until 2 by visiting the farmers' market in Fitler Square at 23rd and Pine. The market is open year-round. In fact, it's one of just two or three in the entire city that are open year-round.
The market will feature products and produce grown by the farmers themselves, often picked just before coming to market. Highland Orchards, will sell a wide variety of fresh, local produce, and will start out the season. Joining the market again this year will be Brent and Lori Fox from B & L Grassland Farms. Brent and Lori sell grass-fed lamb and beef, as well as eggs. Grass-fed meat and dairy products are renowned for their low fat content. As the season progresses, a variety of farmers selling fruits, vegetables, baked goods, honey, and a variety of other farm products will be coming to market. The market is operated by The Food Trust, a non-profit organization that works to ensure that everyone has access to affordable, nutritious food. The Food Trust runs farmers' markets throughout Philadelphia, Chester, Norristown and Camden, and nutrition education in schools throughout the Philadelphia region. Visit them online at www.thefoodtrust.org.
More links about the Farmers Market: