Join Our Mailing List
Support the Fitler Square Park
Incorporated in 1962, the Fitler Square Improvement Association grew out of the efforts of many individual residents in the area working independently to improve Fitler Square.
The founder of the Association, Marie Wilson, tirelessly took on the responsibility for the major overhaul that was needed. New walkways replaced the cracked – and in many areas missing – cement. Trees and sod suddenly appeared where only bare earth had existed. Shrubs and flowers bloomed in beds that had formerly been home to broken bottles and accumulated trash. And the park began to change into a pleasant oasis where residents could enjoy a unique garden area in the heart of an urban neighborhood.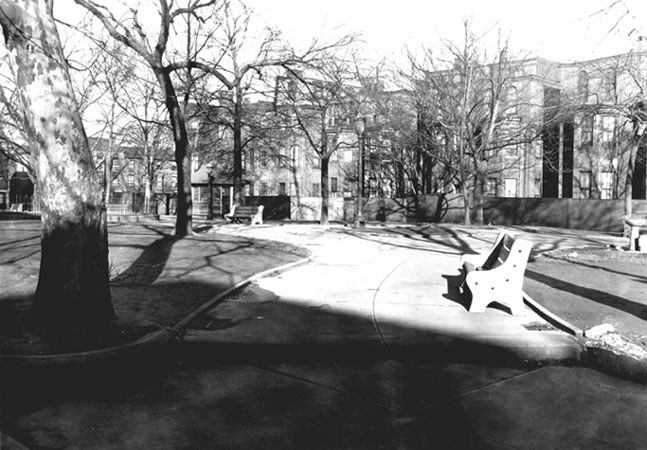 Fitler Square 1947
Today, annual membership dues and other individual donations fund major improvements to and the maintenance of Fitler Square. Recent major improvement projects conducted by the Association, in coordination with the City, include a major overhaul of The Square's Fountain. Like many historic Philadelphia Fountains, Fitler Square's was originally build in a non-recirculating manner using water directly from the main and subsequently draining this water directly into the sewer. In 2009 – 2011, the Association planned, raised funds, and contracted to transform the fountain into its currently recirculating form through the addition of piping and pumps – saving millions of gallons of water per year. Another major present day project includes the overhaul of the East and West Gardens, necessitating hiring a seasonal part time gardener, acquiring plant material, and improving The Square's irrigation system to water these plantings.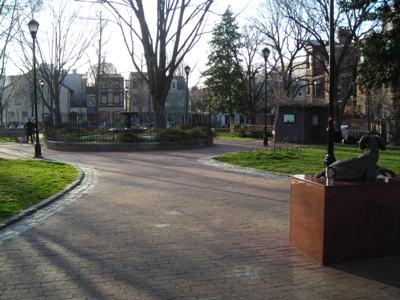 Fitler Square 2012
Other projects are more continual, such as professional tree care and planting, turf revitalization, planting flowers and shrubs, fixing the sprinkler system, custodial supervision, improving pathways and fencing, an annual Holiday tree lighting ceremony with gifts for neighborhood children, and an Easter Egg Hunt.
Your membership dues and donations support all of these efforts. We could not realize our mission to improve and maintain Fitler Square without your support. Please become a member today!
The official registration and financial information of The Fitler Square Improvement Association may be obtained from the Pennsylvania Department of State by calling toll-free, within Pennsylvania, 1-800-732-0999. Registration does not imply endorsement.